INICIO/Home | QUIÉNES SOMOS
Who we are
CR LISTEN-León and Olaiz S.I., está compuesta por:
Ursula León Castro, nacida en Lima es Navarra de adopción....Cuenta con amplia experiencia en el receptivo de Perú, y desde hace 10 años vive y desarrolla su actividad en Pamplona. Está especializada en el Camino de Santiago.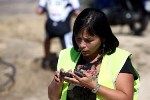 Iñaki Olaiz Iraizoz, nacido en Pamplona, cuenta con experiencia de mas de 20 años en el sector turístico y desde hace 15 años en la actividad de receptivo en Navarra y Norte de España.


CR LISTEN León and Olaiz S.I., is composed by:
Ursula León Castro, born in Lima is Navarra's adoption...He has extensive experience in the Incoming of Perú, and 10 years lives and operates in Pamplona. It is specialized in the Camino de Santiago.
Iñaki Olaiz Iraizoz, born in Pamplona, has over 20 years experience in the tourism sector and 15 years in the activity of receptive in Navarra and the North of Spain.
Y nuestros colaboradores habituales:
-Curtis Jarret Williams, nacido en Chicago. Nuestro guia americano en el Camino (8 veces andando y 2 en bicicleta).
-Javier: nuestro guía por Navarra, País Vasco y Rioja.
-Harri Larumbe: experto en arte y guia del camino.
-Ilargi Olaiz, historiadora de arte, guia en ingés e italiano.
And ours regulars contributors:
-Curtis Jarret Williams, born in Chicago. Our American Guide on the road (8 times walk and bike 2).
-Javier: our guide for Navarra, Basque country and Rioja.
-Harri Larumbe: expert in art and guide the way.
-Ilargi Olaiz, historian of art, guide in English and Italian.
.
¿Estás pensando en hacer "EL CAMINO de SANTIAGO? Lo organizamos "a tu medida", para que no te preocupes de nada. De Roncesvalles a Santiago, o el Camino Portugués, o el "aragonés", o......Para 1 persona o para grupos, con guía, sin guía, con vehículo, sin vehículo, a pié, en bicileta, de"turista". No importa el tiempo que tengas: 1 semana, 2 semanas, 5 días,......